Religion
The Roman Catholic denominatin dominates the population of Italy. About 95% of citizens are Roman Cathloic but only about 30% attend church on a regular basis. Roman Cathloic was made the offical religion of Italy under 1929 Lateran pacts with the Vatican. This status ended in 1985 when revisions to pacts provided for separations of the church and the state. The Roman Catholic denomination has so much power in Italy that there is an agreement called the Concordat which governs the relationship between Italy and the Roman Catholic Church. It excludes priests and members of the religion from entering the military and gives tax exemptions to religious organizations. Located in Italy's capital, Rome, is the Vatican City. It is the spiritual and govermental center of the Roman Catholic church and the home of the pope. It is a country entirely by itself within the city of Rome and is completely independent from italy.
Other small religions groups in Italy include Protestants, Muslims and Jews.
St. Peters Square, Vatican City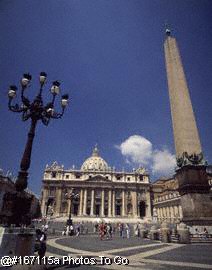 St. Peters Square, Vatican City
A ticket to the Vatican City Museum
Appearance
As strange as it may sound, Italians appearance changes from North to South. In the south Italians usually have olive complexions, dark hair and dark eyes. They are generally shorter than northerners. In the North there is a more varied mixture of people and it is often hard to distinguish from French and Germans. Most often northerners have fair complexions, and ocasionally blond hair.
An Italian Lady
Another Italian Lady in the Colessium
Recreation
Italians enjoy a wide variety of sports, soccer being the most popular. Every major city in the country has a professional soccer team. Basketball is also important and some cities have more then one professional team. Some other forms of recreation in Italy are fishing, hunting, cycling, rollerskating and basketball. Sundays in Italy are usually spent with families who will often drive to the seashore or the mountains to spend a day or afternoon.
Created by Christina Whelan